Georgios K. Karas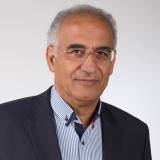 Education

He was born in Famagusta. He studied Civil Engineering at the University of Maryland (USA). He was awarded the Bachelor of Science in Civil Engineering and the Master of Science.


Professional Career

From 1984 to 1989 he worked as a civil engineer at Allison McCormac and NicKolaus P.Awho held offices in Baltimore, Maryland and Washington D.C. (U.S.A.). Following the relative state exams, he was awarded the title of Professional Engineer (P.E.USA) in 1988. Since 1989 he works privately in Cyprus as a consultant engineer. He is a managing partner at "George Karas and Associates – Architects Civil Engineers L.L.C" which operates in Paralimni, Cyprus. The office is involved in the architecture and structured design of various building typologies including hotels, tall buildings, theatres, churches, apartment complexes, private residences, football stadiums, sports halls, swimming pools, waterparks etc. The clientele of the office is of a wide range, including private companies, public organisations, quango, tourist organisations, construction companies etc.


Professional Bodies
Member of the Cyprus Association of Civil Engineers (CYACE) which he served as:
Secretary and member of the board
Member of the drafting group for the magazine "Civil Engineer"
Member of the Cyprus Scientific and Technical Chamber's board which he served as:
President of the Committee for the Registration of new members
President of the Committee for Buildings' Safety
President of the Committee for the evaluation of civil engineering university courses, from private institutions.
Member of International Professional Bodies for Civil Engineering
American Society of Civil Engineers
Institute of Structural Engineers (USA)
Activities
Served as:
President of Paralimni's Tennis Association
Member of the Cyprus Tennis Federation's board, where he was awarded for his outstanding service
Manager of the ENP (Enosis Neon Paralimniou)'s volleyball team
Currently:
Member of Paralimni's Municipal Council
President of "Enosis Neon Paralimniou" Athletic Club
President of the Agency "Stadiums Licensing Authority" (A.S)
Member of the council for The Cyprus Agency of Quality Assurance and Accreditation in Higher Education (CY.Q.A.A.)
Personal
He is married and father to three children and he lives permanently in Paralimni, Cyprus.

Contact Information
Address: 6, Chimaras St., P.O.Box 33289, 5312 Paralimni
Tel: 23811755, Fax: 23811756, Mob: 99605403
E-Mail:

This email address is being protected from spambots. You need JavaScript enabled to view it.